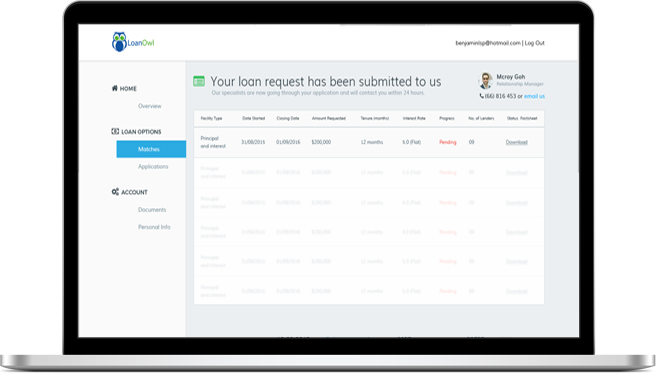 Get Criteria
See criteria and get your eligibility instantly

Apply
Apply online to multiple lenders

Get Approved
Get approved in 2 weeks
NEVER

STEP INTO A BANK AGAIN
Get all rates and eligibility online from multiple banks.
Let's get you some capital.
Answer the question below to see your loan options
Financing Your Company's Growth
LoanOwl is committed to helping small and medium businesses grow. Sometimes you need grow with new business opportunities, purchase equipment, or renovate your office. Leverage on our specialty of raising capital for you. We will help you obtain financing for all your business needs. Enhance your cash flow; improve your productivity and more with us!
SME Or Business Loans: Borrow Money Quickly
Fund the growth of your business quickly, and with a wide range of loans or financing solutions that are specially crafted for you by our secret algorithms! Stop waiting for bankers to get back to you after months of empty promises. We can help you obtain loans for your business within 3 days. Your business loan or invoice financing application goes straight to processing, and never goes through the tedious process an ordinary applicant goes through.
SME LOANS AND INVOICE FINANCING MADE EASY
Doesn't matter if you're looking for term loans, micro loans, property loans, SME loans, invoice financing, equipment and machinery loans, LoanOwl offers you hassle free and simple solutions. LoanOwl is designed to be your convenient one-stop solution for obtaining loans. We focus on raising capital for you, so you can focus on growing your business. This is our expertise.
The Best In Business Loans
Loan applications by SMEs in Singapore are consistently high, but up to 90 percent of applications are rejected by banks in Singapore. The actual number of disbursed loans to SMEs is low. But rest assured, our LoanOwl team never sits on applications, and always brings the best results to you. Our clients rarely leave us empty handed.
Our Solutions Are Tailored For SMEs
Increase your business liquidity with us. We are your ideal partner to obtain the most favourable terms, with high flexibility, no matter what you need. Take this advantage and make a free enquiry. Come apply for a business loan or factoring with us, and turn your business dreams into reality.